Reason Online "Would you give up your immortality to ensure the success of a ...,"
by Ronald Bailey July 27, 2007
Oprah Magazine, (387 KB pdf) "Six Beautiful Minds," by Thea Singer. June 2007
Sound on Sound (1 MB pdf) "The Synth Designer Who
Wants To Live Forever" by Gordon Reid, June 2007
Fortune Magazine "The Smartest (or Nuttiest) Futurist on Earth" by Brian O'Keefe. May 14, 2007 (See page 60)
CRN "Kurzweil: Biotech Will Drive Software Security" by Kevin McLaughlin. Thu. Feb. 08, 2007
The BBC Horizon (~48 minute movie) "Human Version 2.0." Originally aired Jan. 9, 2007.
The Nation "2006: a vintage year for ideas that will change the world" by Will Hutton. 12-26-06
New York Times (77 KB pdf) "A Smarter Computer to Pick Stocks" by Charles Duhigg. November 24, 2006
HPCwire "Ray Kurzweil Dazzles Crowd at SC06,"
by Helen Thomson. Nov 25th '06
Information Week
" Kurzweil: Computers Will Enable People To Live Forever," by Sharon Gaudin. Nov 21, 2006
EETimes.com "Kurzweil: Computers will enable people to live forever," Sharon Gaudin. (11/21/2006 10:36 AM EST)
The video of Ray's three hour Book TV "In Depth" interview is now available on the web:
Book TV CSPAN2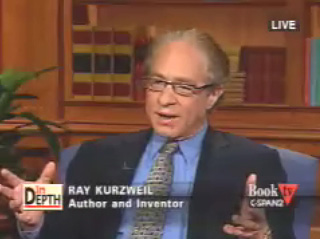 - Click
here
to view video (RealPlayer)
HPC Wire From the Editor "The SC-ingularity is Near" by Michael Feldman. 11-10-06
Wisconsin Public Radio "Humanity: A Work in Progress," 10-1-06
Popular Science, "The Future of Robots," by Ray Kurzweil. September 2006 Issue.
PopSci Podcasts (6MB mp3)"Episode 15: The Future of Robots" 09-22-06
Scientific American (89 KB pdf) "Reprogramming Biology -Tinkering with our genetic programs will extend longevity" by Ray Kurzweil. July issue 2006
ScientificAmerican.com "Reprogramming Biology -
Tinkering with our genetic programs will extend longevity" by Ray Kurzweil. June 06, 2006
Playboy Magazine (2 MB pdf) "The New Human - The next twenty years will change our idea of what it means to be human" an interview with Ray Kurzweil. July 2006 Issue
CNN.com "Heaven or hell? How will technology shape our future?" Monday, June 12, 2006
CNN Money.com "No aging, robot cars - and radical business plans," by Chris Taylor. May 25, 2006
The Stanfor Daily "Futurist sees world changed by technology," by Katherine Cox
The Age "All change for immutable laws" May 16, 2006
San Francisco Chronicle "Smarter than thou? Stanford conference ponders a brave new world with machines more powerful than their creators," by Tom Abate. Friday, 5.12.06
Science & Theology News "Trends hint at a golden era of nanotechnology," by Ray Kurzweil. May 11, 2006
Los Angeles Times "Futurist Sees Machines, Humans Merging in 2045" by James Harkin. April 16, 2006
Bio-IT World.com "Kurzweil: Life Is the Fast Lane" by John Russell. Wed, 12 Apr 2006 3:40 AM PDT
Wired News "Getting Evolution up to Speed " by Annalee Newitz April, 10, 2006
TCS Daily "A Rapture for the Rest of Us," by Glen H. Reynolds. 05 April 2006
Boston FIRST Regional Robotics Competition (114 MB .wmv)
Friday, March 24, 2006 - Saturday, March 25, 2006
CNN.com
Transcripts CNN Live Event/Special "A Look at How Technology May Shape our Future World," Aired March 25, 2006 - 15:00 ET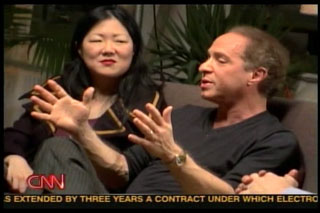 NPR "Thinkers Lay Out the Beliefs They Can't Prove," Talk of the Nation, March 9, 2006
The Huffington Post (The Blog) "One Faith, One Lord, One Baptism - One Supercomputer?" by RJ Eskow 3-6-06
California Institute for Telecommunications and Information Technology "Challenging Students to Think: Smarr Presents Radical Scenarios of the Future" by Stephanie Sides. February 21, 2006
Ottawa Citizen "Humanity's next great leap," published: Thursday, February 09, 2006
Yahoo! Finance "Futurist Ray Kurzweil Tells Georgia Technology Summit the Melding of Humans and Machines is Near". Wednesday February 8, 4:01 pm ET
CRN "Ray Kurzweil" interview by Sandar Olson. 12/05
The Futurist (1MB pdf) The Future of Human-Machine Intelligence -by Ray Kurzweil. March-April 2006
Richmond Times-Dispatch "Quest for immortality continues" by Walter Witschey. Wed, 25 Jan 2006
Political Cortex, "Last Off Ramp Before Armageddon" by Devilstower. 01/20/2006
boingboing.com Cool Tools Reviews "good books," Tuesday, January 17, 2006
Ubiquity "SINGULARITY: UBIQUITY INTERVIEWS RAY KURZWEIL" January 10-17 2006
Stuff.com "Soothsayers predict what lies ahead for mankind,"
17 January 2006
Ubiquity "Ubiquity Alert: An Interview With Ray Kurzweil," Volume 7, Issue 1. January 10, 2006-January 17, 2006
ComputerWorld.com Ray Kurzweil: IT Will Be Everything, by Gary Anthes. January 09, 2006
Edge.org "The Third Culture" Ray Kurzweil. by John Brockman. Jan.1st, 2006.

NPR "Ray Kurzweil: Life in the Future," Talk of the Nation. December 23, 2005
The Register "TechScape: I'm going to live forever Kurzweil's faith in the future" by Bill Robinson
Published Friday 23rd December 2005 10:42 GMT
What is Enlightenment Magazine (HTML)"Chasing Immortality- The Technology of Eternal Life, an interview with Ray Kurzweil"by Craig Hamilton.
- Click here for the PDF
CRN.com "Industry Hall of Fame. Ray Kurzweil, Founder, Chai rman & CEO, Kurzweil Technologies" by Heather Clancy, Fri. Dec. 09, 2005
Z+Blog! "The Singularity is Near" posted by Ann Marie Healy on 12/08/2005
Motor Trend, "The Asphalt Jungle: Street Smart" by Arthur St. Antoine. October 2005
Chicago Tribune, "Falling Behind The Curve?" by Alison Neumer. Published December 4, 2005
TomPeters! "Cool Friend: Kurzweil" posted on 11-30-05 by Cathy Mosca
Diane Rehm Show, "11:00, Ray Kurzweil: 'The Singularity Is Near'," 11/23/2005
G'Day World, "On The Pod" #57 - Ray Kurzweil
November 3rd, 2005 by Cameron Reilly
CNN Money, "My golden rule - 49 leaders, from Buffett to Spitzer, share their secrets to success." November 28, 2005: 1:37 PM EST
SETI Institute "This Week; The Singularity," reporter Bud Gundy. November 27, 2005
Gaurdian Unlimited, "The ideas interview: Ray Kurzweil," Monday November 21, 2005
Do Computers Dream Of Silicon Sheep?: Anxieties of the Spiritual Machine, (PDF 176 MB) by Richard Behrens
L.A. City Beat, "We're Doomed!" by Mick Farren. 11-17-05
ChannelWeb,"Visionary Kurzweil Touts Technologies Of Tomorrow" by Kevin McLaughlin, CRN Tue. Nov. 15, 2005
PR Newswire via Yahoo! Finance, "CMP Media's CRN Inducts Five Technology Innovators into the CRN Industry Hall of Fame"
Wednesday November 16, 10:05 am ET
New York Times (1 MB jpeg)"Recipe for Destruction", by Ray Kurzweil and Bill Joy, October 17, 2005
San Jose Mercury News Sun, "Can technology make us superhuman?" by Lynn Yarris. 13 Nov 2005 3:15 AM PST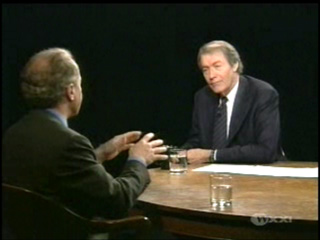 Charlie Rose on PBS, Ray Kurzweil is interviewed about his new book, The Singularity is Near, When Humans Transcend Biology on November 1, 2005 (30 minutes)

- Click here to view the interveiw (Windows Media Player 9 or newer, 320 x 240 image, 89 meg streaming file)
- Click here to view the interveiw (Quicktime, 160 x 120 image, 264 meg streaming file)
WIRED "Robert Moog (1934-2005) " - by Ray Kurzweil. Issue 13.11 - November 2005
Forbes "Moore's Law, Kurzweil And Telecosm Stocks" by George Gilder, Gilder Technology Report, 11.03.05, 12:00 PM ET
AlwaysOn "The Future of Technology is Inside You—Literally!" by John Furrier


Click here for podcasts.10.25.05 @07:00
Forbes "Ray Kurzweil On Merging With Machines"
10.24.05, 9:00 AM ET
New York Times Magazine "Beyond Human," by Christopher Caldwell
Published: October 23, 2005
Investor's Business Daily "Nanobots Will Help Battle Ills In Future," by Brian Deagon. Posted 10/21/2005
Information Week "Robo-Thought Nears," by By Eric Chabrow.


Click here for podcasts.-Oct. 17, 2005
Internet Time Group "The Singularity is Near," by Jay Cross. Monday, September 19, 2005.
Future Salon "Age of Anxiety Future Salon" September 29, 2005
Tech News World Transcending Biology Calls for Transcending Red Tape. By Sonia Arrison 10/14/05 5:00 AM PT
The Christian Science Monitor "Progress at light speed" by Gregory M. Lamb. October 13, 2005 edition
Goldseek.com "Aah, Brave New World" by: John Mauldin, Millennium Wave Advisors -- Posted Sunday, 9 October 2005

Philadelphia Inquirer Listen to an interview with author Ray Kurzweil. Posted on Mon, Oct. 10, 2005

WBUR.org On Point: "Rise of the Machines," Aired: Monday, October 03, 2005 11-12PM ET, by host Tom Ashbrook.
LifeExtension magazine (PDF 3.2MB) "Futurist Ray Kurzweil: On Building Bridges Toward Immortality," written by Jon VanZile and published in the September 2005 issue.
NewScientist.com Click here for PDF(PDF 3.2MB) "Human life: The next generation," written by Ray Kurzweil, New Scientist, September 24, 2005
Forbes, "Long Live AI," by Ray Kurzweil, published in August 2005.

NPR radio, Click here to download (MP3 file) "Here and Now," Clip used with permission of public radio station WBUR, Boston.
What Is Englightenment Magazine "Chasing Immortality," an interview with Ray Kurzweil by Craig Hamilton, published in the Autumn 2005 issue.
BusinessWeek,"Prophet of Longevity" by Otis Port, published August 1, 2005
Edge.org, "The Edge of Computation: A Conversation with J. Craig Venter, Ray Kurzweil, and Rodney Brooks," created for the TED Conference, June, 2005
Inc. Magazine,"Entrepreneurs We Love," - April, 2005
Fast Company,"60 Seconds with Ray Kurzweil," - April, 2005
CIO,"Machine Dreams," - October 15, 2004
Investor's Business Daily,(PDF 514KB) September 22, 2004
Time, "Future Visions," - February 17, 2003
What is Enlightenment "Faster Forward - Impressions of Our Emerging Future" by Melissa Hoffman.Sping-Summer 2003
Invention & Technology,(PDF 1MB) "Hall of Fame interview," - Spring, 2003
CIO,(PDF 345KB)"The CIO 20/20 Vision Awards," - October 1, 2002
WIRED, (PDF 3MB) "Kurzweil's Law," - Apri,l 2001
Upside, (PDF 2MB) "Claim to Fame," - February, 2001
Time, (PDF 732KB) "Will My PC Be Smarter Than I am?" - June 19, 2000
Psychology Today, (PDF 1.2MB) "Live Forever," - February, 2000
Technology Review, (PDF 1MB) "The Story of the 21st. Century," - January/February, 2000